Al pensar en chocolate, inmediatamente viene a mi mente la receta que el famoso cocinero Michel Bras ideó en 1981. Se trata del Coulant de chocolate, un postre que siempre me ha gustado pero que nunca había decidido a hacerlo yo mismo, así que había que ponerle remedio y empezar alguna vez a probar a cocinar postres.
When I think in Chocolate, immediately comes to my mind the recipe that Michel Bras conceived in 1981. It's the famous Chocolate Coulant. A dessert I've always liked but I hadn't decided to do by myself, so I had to make by my own.
Necesitaréis aproximadamente: 125 gramos de chocolate negro; 90 gramos de mantequilla; 3 huevos; 80 gramos de azúcar y 30 gramos de harina.
Primero hay que fundir el chocolate y la mantequilla en baño maría mientras que se baten los huevos junto al azúcar en un bol hasta que la masa esté uniforme.
At first you have to melt the 90g of butter and 125g of chocolate in a double boiler. Meanwhile, beat the 3 eggs with the sugar until stiff, and add the yolks and flour to the chocolate mixture.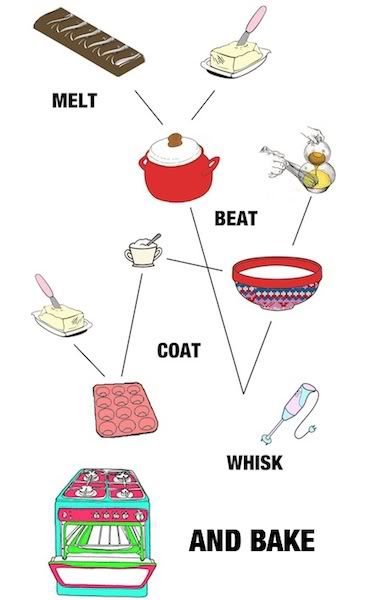 El siguiente paso es untar los moldes individuales con mantequilla y azúcar y verter las yemas en la mezcla de chocolate. Cuando la mezcla esté lista, se vuelca en los moldes individuales y se deja en la nevera durante 20 minutos. Finalmente, se precalienta el horno a 220ºC y se hornean durante 8 minutos.
Existen variaciones en el modo de preparación, pero así es como los he hecho y así han quedado.
Bon appétit!
The next step is spread the custard cups with butter and sugar and fold the eggs white into the chocolate mixture. When the mixture will be ready, pour mixture into the molds and refrigerate about 20 minutes. Finally, refrigerate the molds for about 20 minutes and place into a preheated 220ºC oven for about 8 minutes.
There are variations in the recipe, but that's how I did, and so remain.
Bon Appétit!